When I first spoke to Dr. Marcus Ross about being in our film, I asked what he thought was one of the most fascinating evidences for a global flood. He immediately said "trackways."
Trackways? I had never heard of trackways.
He explained they were basically fossilized footprints. The impressions left by a creature walking or crawling in soft sediment had hardened and left identifiable tracks. Although fossil footprints were not unusual in themselves, it's where they occur in relation to other fossils that's so unusual: trackways consistently appear in rock layers below the bones and teeth and shells of the animals that made them.
But why is that curious?
He said if you think the earth is billions of years old, then those layers of rock represent  millions of years of history. How is it possible that footprints could appear millions of years before there's any evidence of the hard parts of the same animals? If there are footprints, there have to be creatures – where are their fossils? How could millions of years pass with millions of creatures dying (all with bones and teeth and shells) and none of them remain behind?
But there's another solution. If you think the earth was covered by a global flood, then finding trackways below body fossils makes a lot of sense. Those animals that made the trackways were lifted up and carried higher, their bones and teeth and shells eventually being buried by the rising floodwater.  As a result, their body fossils would be found consistently higher than their tracks.
It's a pattern we see everywhere.
A CURIOUSLY CONSISTENT PATTERN
Marcus emphasized it's the consistent pattern that that makes this so compelling.  It's a pattern found in trilobites (little marine creatures), in amphibians, and in dinosaurs.  According to the old earth paradigm, tracks are being found millions of years before body fossils.
How many years are we talking about? 10 million between trilobite tracks and trilobite fossils; 35 million between amphibian tracks and amphibian fossils; and 10 million between dinosaur tracks and dinosaur fossils. That is a curious pattern indeed.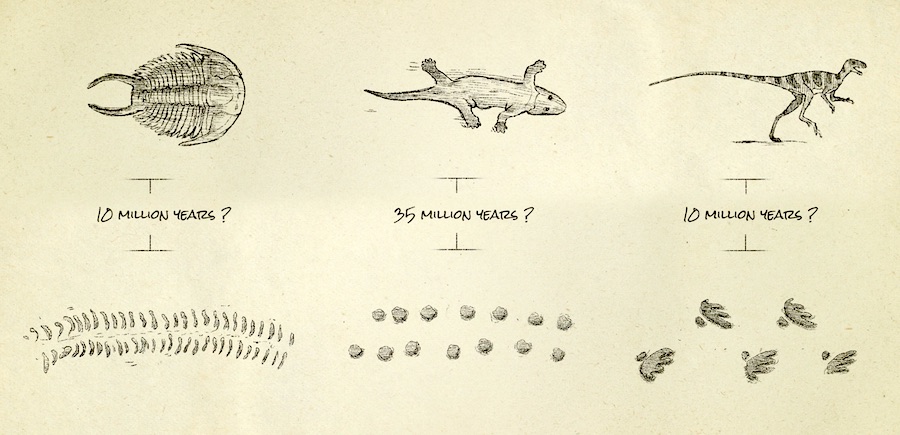 After all, how is it possible that in all these millions of years lots of bones and teeth and shells didn't fossilize? After all, as Marcus points out, footprints in wet mud are much easier to get rid of than the hard parts themselves. And if you look at the fossil record as a whole, there are tons more bones and teeth and shells than there are footprints.
Marcus explained that once you understand what's going on, you realize this is strong supporting evidence for the global flood. The pattern makes perfect sense from the perspective of a worldwide marine catastrophe.  Furthermore, it's a great example of how the data in the fossil record actually makes more sense when interpreted from the paradigm of the history recorded in Genesis.
But Marcus wasn't the only scientist we interviewed who talked about trackways. In fact, we spent a lot of time discussing the shape and direction of some famous footprints.
WALK THIS WAY
When we visited Dr. Art Chadwick at his dinosaur museum in Texas, he showed us some rather controversial tracks in a slab of sandstone.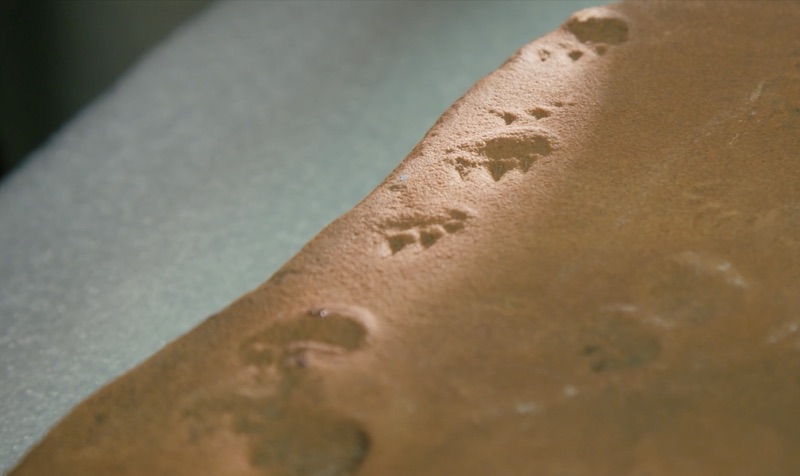 There's a layer of rock in the Grand Canyon area known as the Coconino sandstone.  Lots of amphibian tracks had been discovered over the years seeming to be climbing up a sand dune.  These tracks had been used to argue that the Coconino sandstone was evidence of an enormous desert with lots of dunes and small amphibians climbing around them. And as many scientists have observed, if you have a huge desert in the middle of the Grand Canyon, it certainly couldn't have been subject to a global flood.
But the angle and shape of these amphibian tracks was a bit curious.  It appeared that the feet were pointing in one direction while the angle they were walking was in a slightly different direction.  It was as if they were being pushed in a different direction than they actually wanted to go.
One of Art's colleagues, Dr. Leonard Brand, did extensive laboratory experiments with living amphibians and reptiles to see what they did in different settings. He observed what kind of tracks they made in dry sand, then he observed the tracks they made underwater while walking on wet sand. He even added a current to the water to see what would happen if they were pushed in a direction opposed to the one they were going in.
The results were fascinating. Dr. Brand reported that the experimental trackways which best matched the ones found in the Coconino sandstone were the ones made under water while struggling against a current.  It's the best explanation for these curious tracks.
You can learn much more about Dr. Brand's research in his Faith, Reason, & Earth History (coauthored with Art Chadwick) available in our store as a free download or as a hardback purchase. It's really great.
POSTSCRIPT: A TREACHEROUS TRILOBITE CLIMB
When Marcus was telling Del about the different types of animals that left trackways before bodies, he included trilobites. He alluded to research that Dr. Kurt Wise did in Death Valley, California.
Kurt has written on his own astonishing field research, and he tells the whole story in our 2017 Conference lectures.
Kurt was studying fossils in Death Valley, one of the few places on earth where Cambrian deposits are visible. He was looking for trilobites in the lower layers, and so got down on his hands and knees to investigate, but he found only a handful of animal burrows or pipes. These are made by organisms that once burrowed into the ocean floor.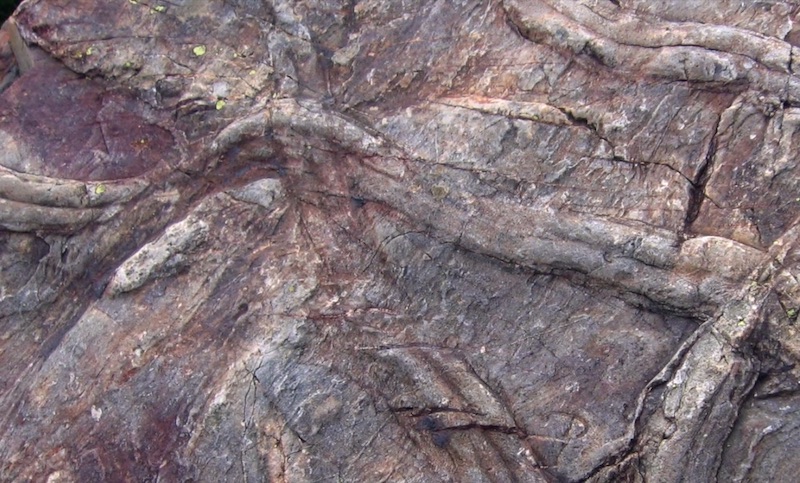 As he moved higher up the rock layers, however, he found more and more burrows, eventually by the thousands. Further up, instead of finding burrows, he found complete tracks of the critters scurrying across the sediment. At first he found only a handful of these tracks, but he found much more the higher he moved.
Suddenly, out of nowhere, he came across a mass graveyard of billions of trilobite shells. It was incredible. Kurt explained that scientists have found this same sequence all over the world: burrows in one layer, trackways in layers above, and then the actual body fossils in layers above the other two. It is a curious pattern that is puzzling to anyone who thinks the earth is very old.
Kurt provides a simple explanation, however: as layer upon layer of mud swept over the trilobites, they struggled to dig out of their tombs, then ran across the layer that had just covered them and made new tracks. But as each successive layer piled on top of them, they eventually collapsed in exhaustion and died by the billions.
Kurt's research is an excellent example of how a creation scientist can look at the data that's been reported and provide a better explanation for it from the perspective of a global flood. But, as Kurt likes to remind everyone, there's a lot more research and study that still needs to be done – something that should encourage students wanting to enter these fields.
If you'd like to learn about much more evidence for the global flood, get Beyond Is Genesis History Vol 1 or Faith, Reason, & Earth History.